JAFS Oversea Projects and Activities
1. Development cooperation and support projects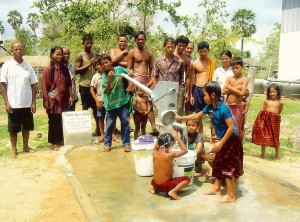 First and foremost, JAFS projects are proposed from the grassroots' people in rural Asia. It is always with their cooperation and effort that projects are carried
Water
First projects that are carried out are centering on better access to water, which is a dire need for survival of rural people. Often getting water is the one and only activity of women and children since their access to water is very bad and they have to walk hundreds of meters to obtain and carry back unclean pond water, river water or mountain spring, often suffering from water-related illness such as diarrhea and fever.
It is a time-consuming backbreaking activity that has to be repeated two or three times a day either by each member of the family or more often by women and children, thus depriving them of other possible occupation and education.
Once JAFS intervenes through our counterpart of the region and clean and safe water is ensured, those women and children will have time for other activities such as small-scale businesses, poultries, garments and etc. As for children, the time they earned will be used for going to school.
Numbers of wells and pipelines provided to the Asian countries
| Countries | 2019 Completed | Total (since 1979) |
| --- | --- | --- |
| India | 8 | 494 |
| Indonesia | – | 45 |
| Cambodia | 19 | 454 |
| Sri Lanka | 11 | 124 |
| Thailand | – | 88 |
| China | – | 1 |
| Nepal | 15 | 275 |
| Bangladesh | 9 | 166 |
| Pakistan |  –  | 8 |
| Philippines | 14 | 410 |
| Laos | – | 21 |
| Burkina Faso | – | 1 |
| Myanmar | 4 | 26 |
| Total | 80 | 2,113 |
* These numbers are recorded on March, 2020
Environmental Conservation
As the global warming has been progressing rapidly, forestation of deserted areas plays major roles. Also tree plantation has been effective on preserving ground water resource, and it will lead to accumulate the groundwater that the human beings need.
Green Scout Movement ~Think Globally Act Locally~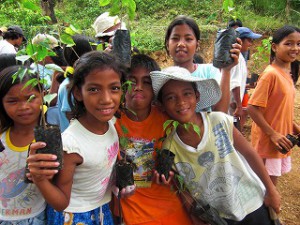 Based on the above mission, we have been expanding local organized and the grass-rooted movements in the various countries, such as Bangladesh, Canada, Cambodia, China, Nepal, Indonesia, Philippines, Sri Lanka, Thailand, and Japan.
The members in the activities, who have exceeded more than 2,000 members from 11 countries, have planted more than 1,700,000 trees in different places in the above countries. In Japan, we have also held many activities such as environmental education or agricultural experience for the next generation since 20 years ago. The 1st International Green Scout Jamboree in Thailand, June 1999 and the 2nd in Philippines, June 2000, were held to create the foundation of the movements.
Numbers of trees planted in the Asian countries
| Countries | 2019 Completed | Total (Since 1979) |
| --- | --- | --- |
| India | – | 712,205 |
| Indonesia | 2,500 | 207,460 |
| Cambodia | – | 18,000 |
| Sri Lanka | – | 675 |
| Thailand | – | 20,500 |
| China | – | 1,105,525 |
| Nepal | 1,870 | 303,524 |
| Pakistan | – | 4,560 |
| Philippines | 11,000 | 166,515 |
| Bangladesh | – | 26,500 |
| Total | 15,370 | 2,565,464 |
Education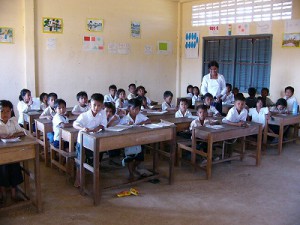 Liberated from time-consuming, backbreaking water fetching, children got opportunities and time to get education. However, in many rural areas, it is difficult to continue to go to school because although schooling is given free, they need cash for other necessary goods such as textbooks stationary, uniform, etc., which they do not have. To end this, we have "Foster Children" programs in many countries of Asia. Many children are given a chance to go to school even up to high school. In Japan there are many grown-up volunteers who happily have a foster child or even children in other Asian countries.
There are other problems related to education and that is lack of schools, school buildings, classrooms, and libraries. JAFS, in cooperation with the local counterparts, launch on school construction, adding classrooms, and libraries. JAFS has constructed additional classrooms, repairs and actual schools in India, Cambodia, Nepal, Thailand and Indonesia and give financial assistance to the management of the two schools such as, Indo-Japan Friendship Academy Cosmoniketan and Grammin School in India. Most of the students have foster parents for their study, but the level of the school is rising and JAFS may be able to grow this school into an international school for all the gifted children in Asia to come and learn together, which will enhance international camaraderie and will hence help establish one Asian community in social welfare.
Numbers of Foster Children Supported by JAFS
| Countries | Supported Children in 2019 | Total Number including those graduated |
| --- | --- | --- |
| India | 175 | 452 |
| Bangladesh | 40 | 234 |
| Nepal | 151 | 276 |
| Cambodia | 76 | 220 |
| Philippines | 28 | 33 |
| Total | 470 | 1,215 |
Numbers of Schools and Vocational Training Center constructed by JAFS
| Countries | Constructed in 2019 | Total since 1979 |
| --- | --- | --- |
| India | – | 24 |
| Indonesia | – | 2 |
| Cambodia | – | 42 |
| Thailand | – | 10 |
| China | – | 1 |
| Nepal | 2 | 44 |
| Pakistan | – | 2 |
| Philippines | – | 8 |
| Vietnam | – | 3 |
| Total | 2 | 136 |
* These numbers are recorded on March, 2020
Medical and Hygiene Projects
JAFS has helped constructing hospitals and additional wards in India and Nepal and helped teach the concept of hygiene and built 1,504 toilets mainly in four Asian countries. There are also programs to educate midwives and traveling medical clinics that visit different areas. The spreading use of biogas plants is another initiative in this endeavor as well as for housewives' use of gas for cooking.
Toilets Constructed By JAFS
| Countries | Constructed in 2019 | Total (since 1979) |
| --- | --- | --- |
| India | – | 1,205 |
| Bangladesh | – | 275 |
| Cambodia | – | 4 |
| Pakistan | – | 6 |
| Nepal | 26 | 1,004 |
| Thailand | – | 9 |
| Laos | – | 1 |
| Philippines | 1 | 1 |
| Total | 27 | 2,505 |
Life Improvement Programs
JAFS has been able to alleviate the poverty of people especially women through life improvement programs, such as micro-credits. The villagers used the credits for small-scale business, poultry, raising pigs and cows, and others, and awareness programs conducted with rural women' s self-help group.
Emergency Relief Activities
JAFS has done many relief activities for those who have been affected by unavoidable natural disasters, such as Tsunami, earthquake, flood, and others.
2004-2005 Tsunami Relief activities in Indonesia, Sri Lanka, andIndia
2005-2006 Pakistan Earthquake Relief Activities
2006 Central Java Relief Activities in Indonesia
2006 Philippines & Vietnam Typhoon Relief Activities
2007 Bangladesh Cyclone "Sidr" Relief Activities
2008 Myanmar Cyclone "Nargis" Relief Activities
2008 China Sichuan Earthquake Relief Activities
2009 Indonesia Padan Earthquake Relief Activities
2009 Philippines Typhoon "Ondoy" Relief Activities
2010 Bangladesh Cold Wave Relief Activities
2011 Japan' s Earthquake and Tsuami Relief and Recovery
2011 Thailand Flood disaster Relief and Recovery
2013 Philippines Typhoon "Haiyan" Relief Activities
2014 "Haiyan Consert" hold in Manila, Philippines
2015 Nepal Earthquake Relief Activities
2016 Japan' s Kumamoto Earthquake Relief and Recovery
2016 Philippines Typhoon "Nock-ten" Relief Activities
JAFS Domestic Project/Program List
Zosui no Kai
-This is an effort to attack indulgent and oftentimes overlooked eating habits by unanimously choosing to eat Zosui once a month. The term "Zosui" refers doubly to "Zosui" the Japanese "rice and water soup" and, secondly, to the combination of the Japanese terms "Zo" and "Sui" , which mean "Gift" and "Water" . The monies collected at this meeting and the monies saved from not having to purchase the more expensive ingredients for a fuller meal are donated to secure more water wells for suffering areas.
The School of Soil, Water and Plant
-Every August school aged children are invited to experience the majesty of the great outdoors in rural Kumano and Wakayama. They are taught to experience the beauty and importance of our natural surroundings through hands-on instruction.
Development and Environmental Education Programs
-Throughout the year there are programs showcasing the achievements and accomplishments of international volunteers all over Asia currently engaged in combating environmental problems at home and abroad.
The Friendship Salon
-We organize music and art dinner spectaculars with native experts in cultural music, dance and painting acting as emcees. The guest speakers are given a forum upon which to share their individual talents, effectively taking the audience on a trip into their respective cultures.
JAFS Bazaar
-We hold charity bazaars in various domestic and international venues to promote and
engender support for JAFS many projects.
JAFS-SAMA-SAMA Shop
-We sell various folk arts and crafts collected by JAFS' sister NGO offices from all over Asia. The funds raised are used in the ongoing treatment of living standards of rural peoples and especially for educational self-support programs for the usually neglected female occupants of these areas.
Educational Materials Lending Service
-We have a lending service whereby we lend out pictures painted by children from all over Asia, along with geographical panels and videotapes chronicling the landscapes of Asia.
The Meeting of Foster Parents
-Fosters Parents are provided a forum to provide financial support to those children all across Asia suffering from improper educational opportunities due to the economic situations of their own families.
Asian Language Classes
-Native speakers from around Asia are invited to come and share their expertise with their host languages as the backdrop.
International Green Scout
-Group of Japanese youth whose aim it is to promote Asia-wide grass-root activity. Among many things, this group is in charge of presenting the "Declaration of India" at the JAFS official Indian Affairs Meeting.
Youth Network JAFS
-Network of seminars organized to educate and engender unity between youth from all over Asia in an attempt to foster greater awareness and concerned action when they return to their home countries.
AISS
-Organization founded to link children who have been immersed in the cultures of other nations at the International Summer School. There are a host of volunteer activities geered to nurture these childrens' independence and internationalism.
The Earth School for Mothers
-Series of Lectures in which participants, irrespective of age or sex, are asked to think about global issues affecting nations and environments worldwide.
Asian Idobata Salon
-We hold bazaars for the Water Pot Fund and sponsor meetings in which participants are asked to make handicrafts to sell at these bazaars. The Water Pot Fund is an effort launched to counteract the sufferings and sacrificed status of all Asian women.
Indian Culture Center
-Center established as a resource center for those interested specifically in the cultures of India.
There are planned lectures, seminars, tours etc. announced sporadically throughout the year.
Halu-Halo
-Charged Luncheon meetings are held every week with various national and international guests. The aim of which is to donate the proceeds to the educational survival of children all over Asia.
Malumpati Club
-Club organized by the Drinking Water project leaders in Pandan, Phillipines. They focus mainly on forest and education intervention whose funding is a function of organizing regional and seasonal bazaars.
JAFS Sarvodaya Friendship Meeting
-Meeting organized by the Work Camp project leaders in Sri Lanka. Their aim is to provide funding and support for the projects of Sarvodaya, a Sri Lankan NGO with long-running ties and a friendship with JAFS that extends 7 years prior.
Financial Resources
Membership fees
Donations from well-wishers both individuals and groups including schools, corporations etc.
The profit from free markets, bazaars and stalls in various festivals in local areas in Japan as
well as ingenuous activities including Zosui no kai,which donates its profit to the assistance of our neighbors in Asia.